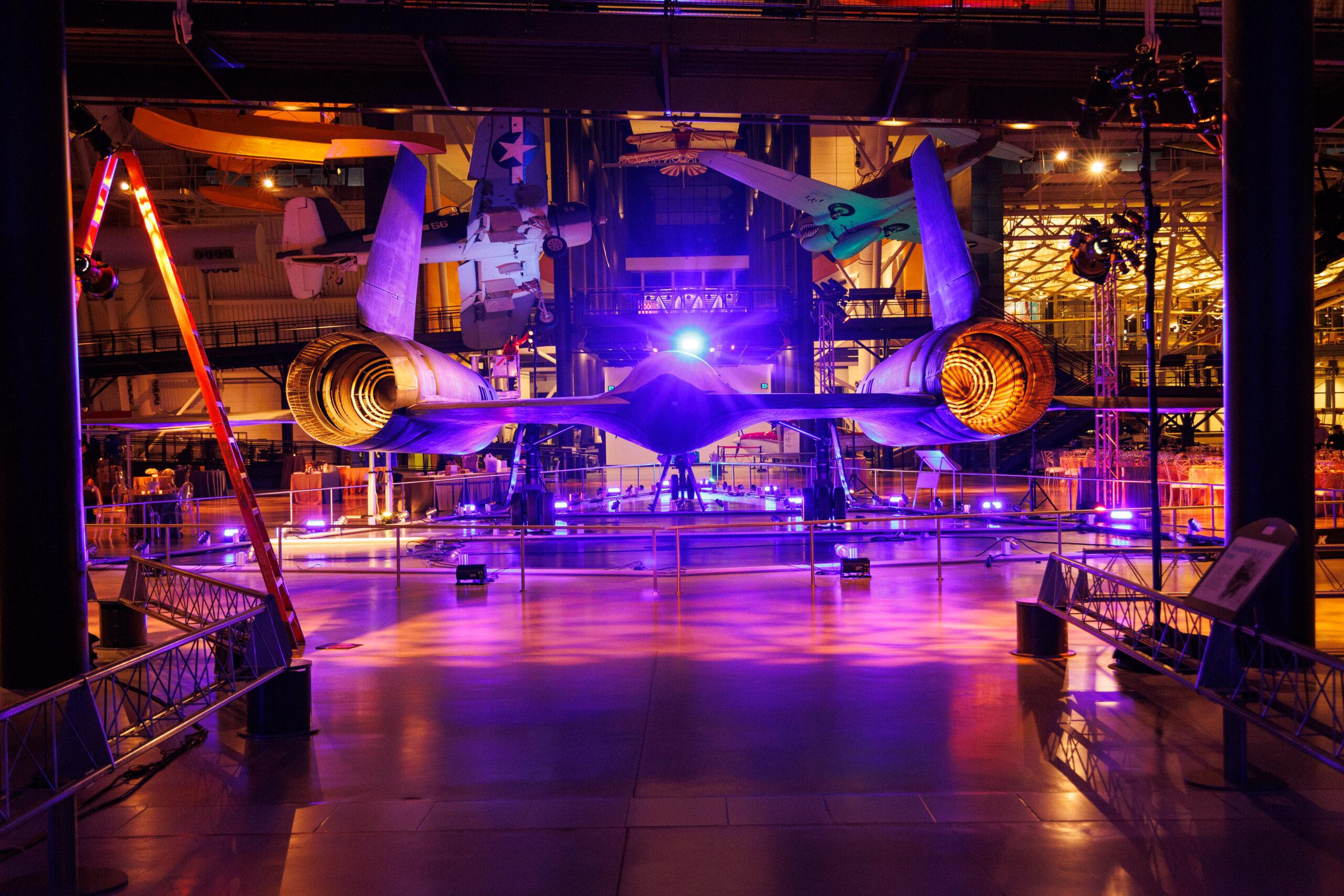 Ready for your event to soar? Consider an intriguing venue like the Steven F. Udvar-Hazy Center in Chantilly, VA. This world-renowned Smithsonian museum displays thousands of aviation and space artifacts, including the Space Shuttle Discovery, a Blackbird SR-71, and a Concorde, in two large hangars. It also happens to be one of Main Event Caterers' extraordinary venues for intriguing parties and unforgettable get-togethers.
With a setting straight out of a James Bond movie, your guests will be transported on a magical journey, complete with dramatic lighting effects and extravagant decor. Main Event is your go-to for an 'only in DC' moment that can't be left to chance. Every detail is meticulously curated by our skilled team at this amazing venue. Our clients rely on the fact that for 25 years, we've been in the business of building well-balanced, sensory experiences that transport guests to a bold world of celebration.
A Stunning Backdrop
Main Event Caterers invents a world of style and intrigue with breathtaking venues that curate endless possibilities. The Udvar Hazy Museum is a stunning backdrop that will seamlessly compliment any event. Our event designers collaborate with clients to create a masterful menu, compelling craft cocktails, and dynamic decor. In an 'over the top' setting like the Udvar Hazy Center, let your ideas skyrocket to new heights. Main Event will make your imagination — and your party — take off!
We want to make sure your special event is, well, SPECIAL. Meticulously executed. Unapologetically creative. Spot-on service. Unforgettable cuisine. Main Event elevates your special occasion to AMAZING by taking the time to nourish our client relationships to get to know your taste, your style and your vision. Anything is possible at the Udvar Hazy Center and so many intriguing locales in the DMV, and our team will mastermind a perfect plan. Whether you're thinking passed hors d'oeuvres, buffet dinner stations, or plated dinners, our designers will create an elegant event that reflects your tastes, style and budget. Want to bring people together? We'll make it happen — and it will be more memorable, meticulously planned and delicious than you can imagine.
For more information about planning your next party with Main Event Caterers at magnificent venues like the Udvar Hazy Center and more, please visit our website: maineventcaterers.com/our_venues/.