Booze-less beverages don't have to equate to dull drinks for your next gathering. In fact, inventive hot and cold drink options are popular catering practices. according to Tracy Toth at Main Event Caterers in Arlington, VA.
"Our clients love creative approaches to traditional beverage packages,' Toth said. 'A cappuccino and hot chocolate bar, refreshing smoothie bars, or toasty after dinner drinks always offer options everyone likes."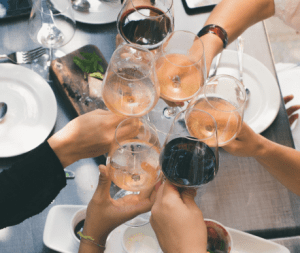 Consider the endless array of creations fresh juices garnished with mint sprigs, magnificent mccktails, Signature lemonades and intriguing Italian soda bars level the 'fancy' playing field, providing intriguing alternatives that don't pack an alcoholic punch. And sometimes. that's just what clients are looking for. "Our daytime events need something more creative than sodas and waters, and wine is not appropriate," said Christine Hammer, Director of Events at Georgetown Law School. 'A seasonal mocktail with a clever name takes the beverage choices up a notch.'
Would you rather consume a Iyawn) diet cola at your next work luncheon or sip on a Cosmo-Not, Baby Bellini or classic Shirley Temple renamed as Hoya Hootch? Guests flock to the inventive mocktini selections or jazzed up coffee bars, Toth said, noting, "It personalizes it."
Bev Rage is a Washington DC metro area-based company that offers dynamic drinks for home events, catered affairs or hotel functions. Guests can enjoy inviting options like milkshake bars, frothy cappuccinos, and dessert drinks.
'People really like drinks with a theme, whether flavor, topping, garnish. or even a color." Bev Rage owner Seranush Ozkam said. "We did a breakfast festival and had a french toast latte theme everyone was crazy about, made with some maple syrup.' During the holiday season, she said menu items like gingerbread latteS and peppermint mochas are the rage. And speaking of warm beverages, Ozkam added that guests enjoy hot drinks merging flavors – like sMores flavored toasted marshmallow or lavender honey oat lattes. Home events can benefit from caterers ideas, and any Pinteiest-lover can attest to the oodles of beautiful liquiciclelights displayed on the Internet.
"I usually scan Pinterest, look up interesting drink recipes online and ask my friends for suggestions," said Christine Panella, a frequent entertainer and co-owner of Next Door Winery in Calistoga, CA. "I love offering guests delicious non-alcoholic options in addition to our wines." Entertainers don't have to look far for refreshing drink ideas to add some zip to their non-alcoholic offerings. Whether its a fully-stocked hot chocolate bar or herb garnished fruit juices to mix and match, the liquid portion of the menu may be your guests' flavor-ite part.