EVENT CATERING WITH EXQUISITE CUISINE, STELLAR SERVICE, CUSTOM DESIGN + A GLOBAL CONSCIENCE
Main Event Caterers provides inspired menus with restaurant caliber cuisine, impeccable service and trend-setting florals and design for our clients. Focused on organic and local ingredients, we are proud to be one of the first full-service catering companies in the Washington DC Metro area. We transform office blocks, beautiful gardens, gilded museums, open-air rooftops and urban warehouses into the perfect space for your guests. We work in established galleries, museums and event spaces across the area including, but certainly not limited to, those listed and will recommend the perfect setting for any event. From an intimate dinner for 20 to a lavish gala for 2500, our team focuses on ensuring that every guest experiences an enjoyable and effortless occasion. Our approach to catering is a marriage of old world enchantment and new world sophistication. We create extraordinary catering menus that are complimented with highly designed settings, the final result is a full-sensory culinary experience that transports guests to a bold world of celebration.
REQUEST CATERING QUOTE
---
---
CATERING WITH A CONSCIENCE
We believe that businesses have a responsibility to not only protect but also improve our natural environment while conducting daily operations. The reality that our industry consumes an incredible amount of energy and creates an amazing amount of waste has forced us to investigate ways to mitigate the effect on our world. As an environmentally responsible business, we also view our actions through the lens of our impact on the planet.
Our commitment to sustainability runs through all facets of our business.
---
It is our mission to measurably reduce our carbon footprint on the environment and to provide high quality food and beverage service with a sustainable, recyclable and local emphases on all products used in the course of our business. It is our goal to fully establish these practices throughout our catering events and continually learn about the newest developments in all areas of sustainability and implement changes as an ongoing practice of our business.
Composting of all Kitchen Waste through compost program
Conversion of all disposable products to recyclable or compostable materials
Elimination of 99% of all plastic products used in the service of food + beverage items
Convert, where possible, all light bulbs to low wattage, energy efficient bulbs; lower water waste, lower energy consumption
All serving trays and boxed lunches are recyclable and/or are compostable
We offer green business solutions at any event
AWARDS + ACCOMPLISHMENTS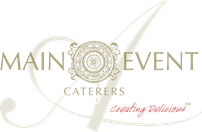 I have worked with Main Event Caterers for several years. Their quality of service is extremely professional and very detail oriented. They are able to cater to a vast array of clientele not only with their cuisine but also with their full-service staff. Their staff is extremely creative and organized. They always have innovative ideas and are able to provide the utmost experience for the client, I sincerely recommend Main Event to any organization or company searching for first rate quality and service.
Marjory Zimmerman
Manager of Special Events The Corcoran Museum of Art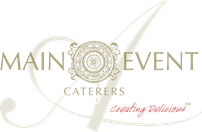 Main Event and my Event Designer were FABULOUS!!! They were such a pleasure to work with. People commented that they didn't know vegetarian food could be so delicious! The food and presentation were phenomenal. The head waiter took excellent care of us all night. Another thing we love about this company is their green practices, but you can tell that they sincerely care about the environment and their business' impact and it's not just a marketing ploy. Main Event was truly fantastic. Use them!!!
Ariel + Dan
THE LATEST ON OUR INSTAGRAM