---
Main Event Caterers believes that the cuisine featured at your event should represent your individual style and preferences as well as exceed the diverse expectations of your guests. Our passion is to provide you with an innovative culinary experience, featuring the highest quality local, seasonal, organic, sustainably farmed, ingredients as possible. And we know how to work with an array of budgets without compromising the excellence of your event. Allow us to bring our catering and event planning expertise to your gathering, whether you are planning a three-course seated dinner for fifty or an internationally themed stations gala for thousands.
REQUEST CATERING QUOTE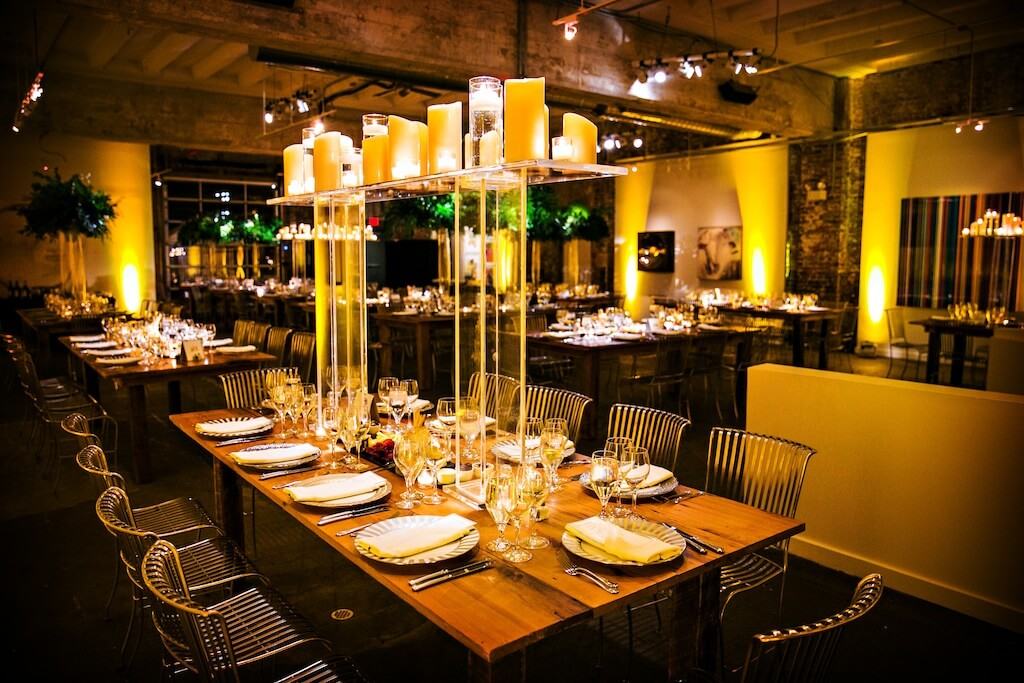 WHAT'S COOKING AT MAIN EVENT CATERERS
At Main Event Caterers, we are are best known for our diverse menu and delectable food that makes guests savor every bite. Our professionally trained chefs are connoisseurs who have devoted their lives to perfecting their craft and preparing food that looks just as good as it tastes. We prepare flawless appetizers, entrees and desserts for events of any type and size. All of our food is cooked with meticulous care and assembled by hand – always fresh. Unlike other caterers that keep food in holding boxes which degrade quality, Main Event Caterers cooks on-site whenever possible to ensure our meals are hot, fresh, and delicious.

Classic Baked Mac + Cheese


-1 (8 ounce) packages macaroni
-4 Tablespoons butter
-4 Tablespoons flour
-1 Cup milk
-1 Cup cream
-1/2 Teaspoon salt
-2 Cups shredded cheddar cheese
-1/2 Cup breadcrumbs, buttered

---
Preheat oven to 400°F. Cook and drain macaroni according to package directions; set aside. In a large saucepan melt butter. Add flour mixed with salt and pepper, using a whisk to stir until well blended. Pour milk and cream in gradually; stirring constantly. Bring to boiling point and boil 2 minutes (stirring constantly). Reduce heat and cook (stirring constantly) 10 minutes. Add shredded cheddar little by little and simmer an additional 5 minutes, or until cheese melts. Turn off flame. Add macaroni to the saucepan and toss to coat with the cheese sauce. Transfer macaroni to a buttered baking dish. Sprinkle with breadcrumbs. Bake 20 minutes until the top is golden brown.
VIEW RECIPE
Wine Braised Short Ribs


-4 Boneless beef short ribs
-1/4 Cup flour
-2 Tablespoons Canola oil
-1 Large onion
-1 Celery rib
-1 Large carrot
-3 Garlic cloves
-1 Cup wine
-1-2 Cup(s) chicken stock
-2 Tablespoons tomato paste
-1 Bay leaf
- Teaspoon dried thyme
-1 Teaspoon dried rosemary
---
Preheat oven to 350°F. Chop onion, celery and carrot into one inch pieces. Mince garlic. Set aside. Dredge beef in flour seasoned with salt and pepper. Shake off extra flour. Heat Dutch oven or other oven/stovetop safe deep pan over high heat till hot. Add oil and immediately add beef. Brown beef till all sides are dark golden brown. Remove from pan and add onion, carrot and celery. Reduce heat to medium and add garlic. Sauté till vegetables start to brown. Add wine and reduce by half. Add tomato paste, chicken stock, thyme, rosemary and bay leaf. Return beef to pan, cover tightly and place in oven. Cook for about two hours or until beef is tender but not falling apart. Remove beef and strain vegetables off of sauce. Return liquid to pan and reduce until desired consistency.
VIEW RECIPE
Tortellini Soup


-1 Package fresh tortellini
-1 Can diced tomato
-2 Cans chicken broth
-2 Cups fresh spinach, chopped
-1 Stalk celery
-2 Medium carrots
-1 Bay leaf
-2 Tablespoons fresh basil
-1 Teaspoon fresh parsley
-2 Tablespoons fresh oregano
-1 Medium onion
-1 Teaspoon freshly ground black pepper
-2 Teaspoons good quality Canola oil
-1 Cup water

---
Sauté celery, onion, carrots and garlic in oil. Add spinach and tomatoes and simmer 10 minutes. Add spices and chicken broth. Simmer, covered, until vegetables are tender-crisp. Add water and tortellini and simmer 10- 15 minutes. Remove bay leaf and serve.
VIEW RECIPE
Sesame Crusted Salmon


-6 Salmon filets, 5-6 ounces each
-4 Tablespoons sesame seeds
-1 Red onion, sliced
-1/2 Teaspoon salt
-1/3 Teaspoon pepper
-3 Tablespoons ginger, minced -1 Tablespoon butter
-3 Tablespoons rice vinegar
-1 Cup coconut milk or 1 cup 35% cream

---
Pre-heat oven to 450 degrees. Toast the sesame seeds in the oven for 5 minutes or when browned. Rub the top of the salmon with the sesame oil and sprinkle to taste with salt and pepper. Dredge the tops of the salmon onto the toasted seeds lightly butter a baking dish and place salmon on top then place in oven for 10-15 minutes dependent on the thickness of the salmon. Once the salmon is baking melt the butter on med high heat and glaze the onion and ginger in the butter for about 5 minutes. Salt and pepper the mixture and then place the rice vinegar in until vinegar evaporates. Then stir in the coconut milk or cream and boil for 2 minutes turn heat down low and wait for the salmon. Place portions of the mixture on a plate and top with salmon with your rice and veggies on the side.
VIEW RECIPE
Caribbean Jerk Chicken


-4lbs Chicken breasts, boneless + skinless
-1/2 Cup Canola oil
-2 Teaspoons chili powder
-2 Teaspoons onion salt
-2 Teaspoons basil
-2 Teaspoons thyme
-2 Teaspoons vegetable seasoning
-1 Teaspoon crushed red pepper flakes
-2 Teaspoons cumin
-2 Teaspoons coriander
-2 Teaspoons ginger
-2 Teaspoons black pepper
-1 Teaspoon cinnamon
-1 Teaspoon ground cloves
-1 Teaspoon allspice
-1 Teaspoon salt
-1/3 Cup sugar
-1 Onion, diced
-1 Green pepper, diced

---
Mix all ingredients, except chicken, in a medium bowl. Cut each chicken breast into 4-6 long pcs. Add marinade to chicken breasts. Marinate at least 4 hours or overnight. Can be grilled on barbecue or in broiler. Cook just until done, do not overcook. This will dry out if overcooked.
VIEW RECIPE